INSEC WORLD to be Settled in Chengdu Permanently, Launching the First Event in the Coming October
"INSEC WORLD" will be settled in Chengdu thanks to the work of Mr. Liu, the Deputy Mayor of Chengdu Municipal People's Government, as well as several representatives from Chengdu's Expo, Economics and Information Technology Bureau, and the world-leading event organization directed by Ms. Gong, the Managing Director of Informa Markets in China. The first INSEC WORLD will be launched in this coming October at Western China International Expo City, and the value of "Security Matters" will be integrated through out the whole event.
INSEC WORLD is supervised by Chengdu Municipal People's Government, organized by Informa Markets and executed by the cooperation of UBM China (Shanghai) Co., Ltd. and Sichuan Tianfu International Conference & Exhibition Co., Ltd. In addition to the above participants, the event has been backed by the Chengdu Municipal Party Committee Network Information Office, Chengdu Expo Bureau, Chengdu Municipal Bureau of Economics and Information Technology, Chengdu Science and Technology Bureau, Chengdu Tianfu New Area and Chengdu Hi-Tech Industrial Development Zone. The first event will be held from October 20th to 23rd, and will include different events such as Keynote Speeches, Tracks, Business Hall, Tech Start-Up, and Advanced Training. Conference content will cover core information security topics such as intelligent security, network security, endpoint security, application security, data security, cloud security, personal data security, IoT security, mobile security, FinTech security, smart city, industrial internet, 5G, government security, emergency respond, security staffing, and security automation.
To ensure the comprehensive and accurate delivery of the latest technology trends, market news and practical applications in the information security field, the organizer has invited a group of domestic and overseas specialists with its abundant global resources. The officially released advisory board members are Derek Manky, Fortinet 's Chief at Security Insights & Global Threat Alliances; Francis Brown, Chief Technology Officer of Bishop Fox; Meghan Reilly, Informa IT Portfolio Group Director; Tim Wilson, Dark Reading Co-founder and Chief Editor; and Paul Vixie, Chairman, CEO and Co-founder of Farsight Security, Inc. Besides, Monnappa K A, Mika Devonshire and Shubham Mittal will participate as Review Board members from the world's top InfoSec event – Black Hat. The above experts are keypeople either working in leading technology firms with an in-depth experience in internet security, internet defense, malware analysis, or providing consultancy for Fortune Global 500 which shape the innovation and development of internet security world. Being on the Advisory Board member of INSEC WORLD, the advisory experts will review and advise session topics for customizing world-class conference meetings with the latest application needs. Meanwhile, the organizer will also set up the domestic consultant board by combining Chinese information security networks of security companies with professional media, making INSEC WORLD the independent third party platform serving enterprises and users for communicating at once.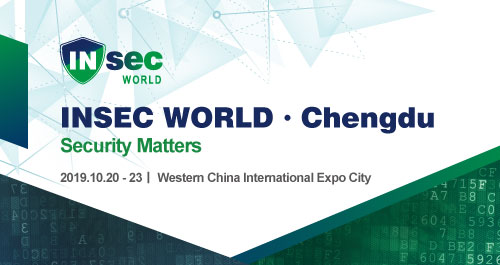 The organizing representative says, within Informa Group, we have strong brands in Information Security, such as Black Hat, the world's top InfoSec event; Dark Reading, the world-leading InfoSec news platform; and Information week, one of the world's largest information technology media. With these exclusive forces working together, INSEC WORLD is positioned to build the largest, and unbiased information security platform in the Asia-Pacific region to connect developers with end-users.
The first INSEC WORLD was scheduled from September 22 to 25 in Hong Kong. But the plan was postponed and moved to Chengdu from October 20 to 23 at Western China International Expo City for certain forces majeure. The organizer has modified the topics due to the necessary changes, and the "Call for Papers" campaign will be extended to May 28, 2019. The organizer sincerely invites InfoSec professionals to join the conference through CFP, and share their unique insights with the markets. For more information, please visit (http://en.insecworld.com/).
Chengdu is the "National Demonstration Network Information Security Industrial Park" awarded by Ministry of Science and Technology of the People's Republic of China and has built up the first information security cluster in western China, which has more than 40 engineering laboratories, technology research centers, and cooperation technology departments. The cluster has gathered 10 China Cyber Security, 29 China Electronics Technology Group Corporation research institutions, as well as AsiaInfo Cyber Security Industrial Research Center, forming the comprehensive cyber security research and developing system. Being a hot spot of western China's internet security area and first class in China's cyber security industry, Chengdu has set up the information security value chain and is pushing the cybersecurity applications to different sectors, especially in the Mobile Internet, IoT, Cloud Computing and Big Data security.
"Chengdu Internet Security Industry Development Plan (2018-2022)" was released in September 2018. The plan aims to build Chengdu into a leading position in the cyber security industry in western China and even in the overall China area and makes the information security industry scale greater than 50 billion in 2022. The policy provides fundamental strong support to further transform Chengdu into a "China Information Security City".
About the Organizer
From June 2018, Informa PLC and UBM plc have completed the combination being as a new brand "Informa Markets", making it a world-leading event organizer.
Informa Markets creates platforms for industries and specialist markets to trade, innovate and grow. Our portfolio is comprised of more than 550 international B2B events and brands in markets including Healthcare & Pharmaceuticals, Infrastructure, Construction & Real Estate, Fashion & Apparel, Hospitality, Food & Beverage, and Health & Nutrition, among others. We provide customers and partners around the globe with opportunities to engage, experience and do business through face-to-face exhibitions, specialist digital content and actionable data solutions. As the world's leading exhibitions organizer, we bring a diverse range of specialist markets to life, unlocking opportunities and helping them to thrive 365 days of the year.
For more information, please visit www.informamarkets.com.
Contact Us
Kelly Yao
E:kelly.yao@ubm.com
T:021-61577209
M:139-1744-8656