CSAO
Certificated Security Awareness Officer

CSAO, short for Certificated Security Awareness Officer, is the first security awareness expert-level certification course in China and provides an all-around approach and practice guidance for professionals in enterprises and institutions who are responsible for the construction of security, the management of internal "human factors" risks and the implementation of information security awareness promotion.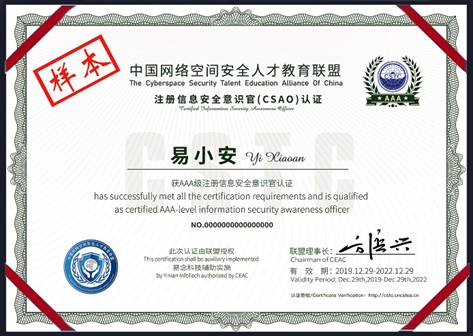 About the importance of Security Awareness Officer training
A lot of people may believe that cybersecurity is the business of enterprise security leader and IT department, yet this is a widespread misunderstanding that needs to be corrected timely. Enterprise cybersecurity is not only the job for the person who's in charge of cybersecurity or the IT department, it is relevant to everyone and is the indispensable responsibility of every employee. Enterprises need a role of "cybersecurity ambassador" to spread security culture and popularize security awareness. The establishment of the role of security ambassador enables ordinary employees to participate in security awareness education activities, so as to help enterprises establish security cultures.
All of the following problems have to be considered in carrying out the cybersecurity ambassador program, ordinary employees cannot become security ambassadors without security education background or the support of theoretical knowledge despite the corporate wish to unfold the "Cybersecurity Ambassador Program". The emergence of CSAO course helps enterprises solve this bewilderment as its complete theory system of knowledge assists enterprise cybersecurity ambassador to carry out enterprise staff security awareness education work, give theory instructions, case experience and solutions, etc., so CSAO course can be said as the best choice for enterprises to carry out the "Cybersecurity Ambassador Program".
Course recipients
The CSAO course is suitable for all security awareness management professionals, including but not limited to:
| | |
| --- | --- |
| Chief Information Security Officer | Chief Security and Privacy Officer |
| Information Security Director | Security Awareness Officer |
| Information Security Manager | Security Awareness Manager |
| Compliance and Privacy Manager | Security Culture Manager |
| Security Awareness Consulting Agency | Human Resource Manager |
| Security Awareness Service Provider | Training Manager |
| Persons Interested in Security Awareness Education | |
Course benefits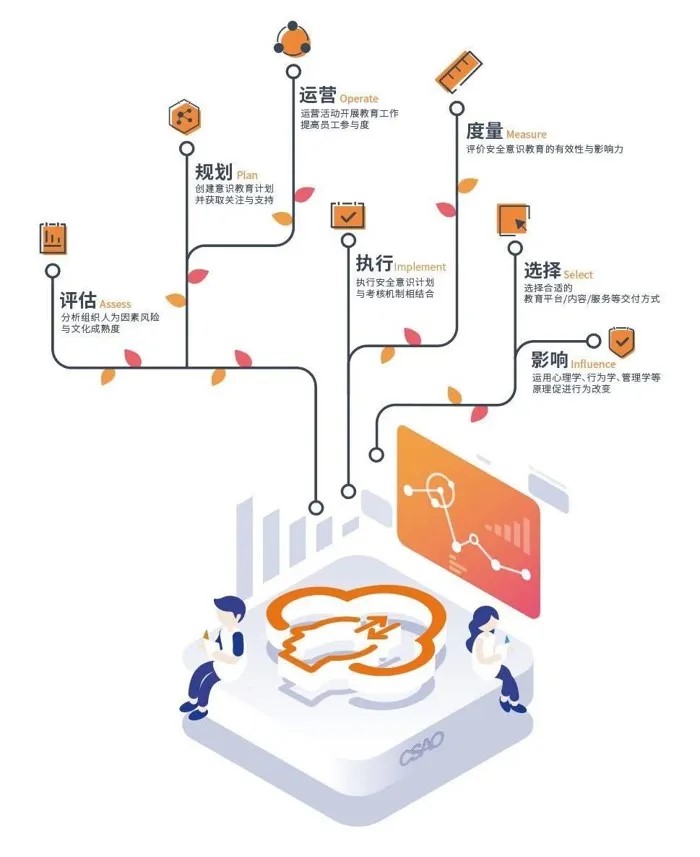 Through learning, trainees can master the following key skills:
Access: Evaluate and analyze organizational human factor risks, maturity of cybersecurity culture and security awareness plan.
Planning: Plan and set up the enterprise security awareness program, gain attention and support from management and all employees.
Operate: Operate and manage the enterprise security awareness education work, attract and improve the motivation of employees for safety awareness education.
Strengthen: Strengthen and carry out the enterprise security awareness plan in combination with corporate culture, security strategy and evaluation mechanism.
Measure: Select the best portfolio of safety awareness planning indicators to measure the effectiveness and impact of indicators.
Select: Evaluate and select an appropriate third-party vendor to achieve platform / content / service delivery.
Change: Apply key principles of psychology, behavioral science and management to promote employees' behaviors change.
Course outline
The CSAO course is divided into four parts, including "The basis of cybersecurity awareness education", "The establishment, implementation and management of security awareness plan", "Social worker psychology and phishing", "Security awareness system and security culture".
Based on safety awareness education theory and integrated psychology, behavioral science, management and marketing, CSAO course is combined with advanced concepts and case practice at home and abroad, standard course content and professional knowledge system, and expert lecturer's explanation in simple words, allowing trainees not only to master the knowledge key points related to safety awareness, but also to gain a whole set of methodology for performing safety awareness education.
Course Lecturers Introduction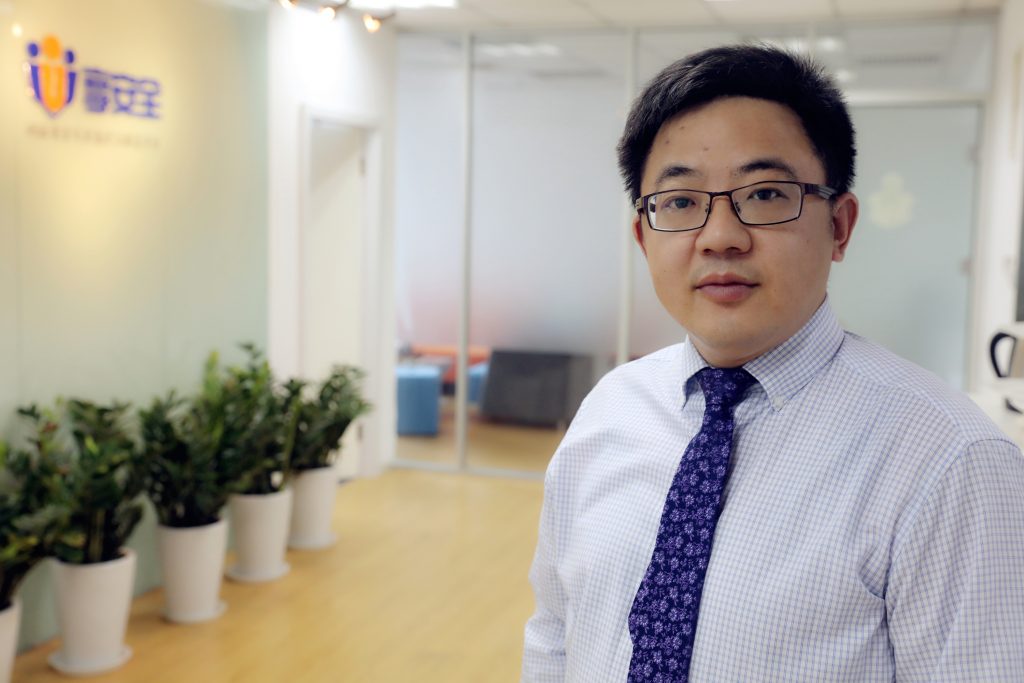 Huaibin Wang
Convenor of the Working Group on Network Security Awareness Training of China Network Space Security Talents Education Alliance, Graduated from Electronic Engineering Department of Fudan University with MBA degree; Over 20 years' experience in information security industry, pioneer and leader of information security education and consulting industry, put forward and construct information security vocational education system; Established Aryasec – China's First Security Consulting company; Undertaker of the propaganda and education work of industries, communities and schools in Shanghai during National Security Week; Initiator of the Talent Identification and Training Method which based on Network Security Skills Competition; Launching Campaigns of Excellent CSOs in China; Participating in national network security personnel identification and training activities, etc. Wong has raised the development idea of "Consciousness determines Security", introduces the online education platform of "Enjoying security", changes cognition, builds human brain firewall, and continuously explores the new mode of network security education in China.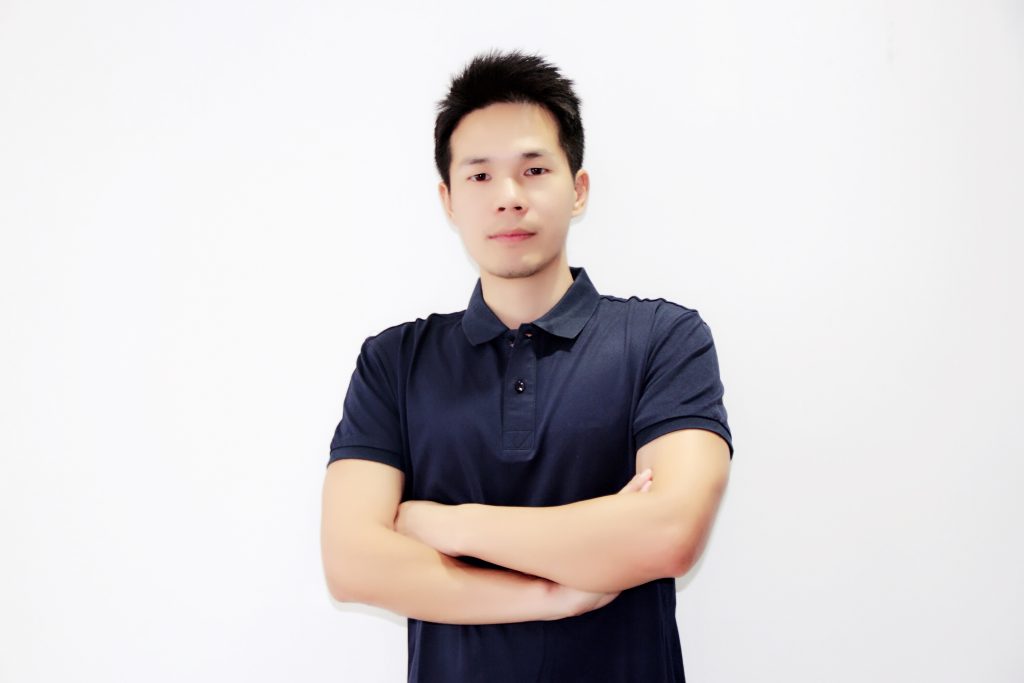 Chaoshou Xie
Information security awareness and training head of PING AN INSURANCE (GROUP) COMPANY OF CHINA., LTD
Talent working group deputy leader of CHINA CYBERSECURITY INDUSTRY ALLIANCE
Deputy leader of security awareness working group, The Cyberspace Security Talent Education Alliance
"Gold" evangelist and practitioner of Chinese enterprises cybersecurity awareness education and security culture construction
Former Head of China business development of (ISC)²), the world's largest information security personnel certification organization, and a CISSP certification management authority
Yinian Technology| Awareness Determines Security

Change Mind Building Human Firewalls
Shanghai Yinian Information Technology Co., Ltd. (Yinian Technology) is a leading enterprise in China's cybersecurity awareness education. Adhering to the core concept that education changes cognition and awareness determines security, our company provides supporting solutions such as teaching content, tool platform and operation services for enterprises with a commitment to create a human brain firewall for cyberspace security.
Advanced Training CSAO course price
RMB 4,800 per person (USD 700)
Exclusive participation benefits: The first 20 registered trainees of CSAO training course will enjoy VIP qualification of INSEC WORLD Conference (Nov. 26th-27th), 2 nights of hotel accommodation (four-star hotel designated by the conference) and a hotel buffet dinner during the conference.